About CC3
CC3 is the fastest and most powerful map-making software for gamers. So if you're a busy person who wants the best, this is the software for you. In minutes you can learn all you need to rapidly create beautiful maps for campaigns, games and even real-world applications.
A few simple but powerful tools do it all, and you can learn what you need in a matter of minutes. But CC3's new simplicity doesn't mean less power. In fact, quite the reverse. CC3gives you easy access to a huge choice of mapping symbols, styles and types. CC3 gives you fingertip control over every aspect of your mapping. With CC3, you draw exactly what and how you want.
Whenever you need designs, whether it's roleplaying games or wargames, fantasy, modern or SF, CC3 can help you create them. From entire worlds and countries, to floorplans and furniture, CC3 can do it. You can map out your entire campaign world, place your troops in the field, or chart your galactic empire.
So, who uses CC3?
Authors, games designers and thousands of gamers and have mapped out the worlds of their imagination with CC3. We've improved CC3 to match their needs. Our mail-list users are extraordinarily helpful and resourceful - if you want ideas, they'll help. If you buy CC3, you are joining a huge, friendly community of like-minded designers. There are hundreds of user websites with a huge variety of maps. After nine years of software manufacture, we bring you quality plus diversity.
CC3 - Because your imagination is unlimited
Details of CC3
So how do you go about creating a design with CC3 ?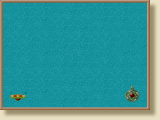 CC3 provides a great starting point - templates. These are pre-designed blank maps, which are set up for different purposes. They have scale bars, compass roses, map borders, their own drawing tools, as well as styles and fonts appropriate for their application. A map for an underground design might have pre-configured grid to which you can "snap" your walls. A starship deck plan could have a key with iris hatches and a pilot's console. Templates give you a head start on your map making, and CC3 has many. When you've chosen your template, you can start mapping. Here are some examples of how you can approach different types of design.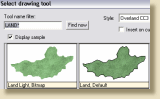 Overland mapping
Much of what applies to overland mapping also holds true for all designs, so we use it here as an example. With the Landmass tool, CC3 simplifies what could be the most time-consuming part of overland map creation. Either choose the default Landmass tool, or choose from one of the predefined ones. You can even create your own. You can sketch, click or even use a fractal drawing option.
If you prefer, you can simply import a map from Fractal Terrains Pro, or place a scan of an existing map in the background. If you want you can add filled contours using pre-defined height maps, or for a more fantasy feel, use symbols.

Now choose a button for the next map feature you want to add, mountains and hills. This pulls up a catalog of attractive mountain and hill symbols, as well as setting suitable defaults for color, layer and so on. Click on these, scale and rotate visually, then place on the map. The symbols are carefully designed to work together.
The mountains and contours give you an idea where the water might flow - a simple icon click lets you add rivers. Using CC3's precision drawing tools, it's easy to ensure that they line up exactly with the coastline.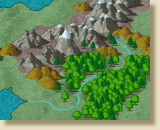 With mountains and rivers, vegetation is the next obvious step. First, mark out the forested areas with the forest drawing tools, then select the Vegetation icon to place individual symbols.
Next, add structures symbols, roads, and other features. The catalog icons give you access to over 900 symbols. You can also fill areas with predefined fill styles made from bitmap textures or vector symbols.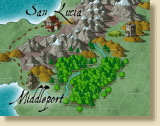 You can add text with the same ease as you can symbols. Scale and rotate on the fly, and create text effects. Labelling your map is easy.
You can also add a numbered hex or square grid of any size, and finally effects like Glows, Blurs Drop Shadows, and many others give your map a special touch.
More than just a map
When you've made a great looking map, what do you do with it? In summary, view it, print it, export it and link to it. All CC3 drawing objects are associated with a particular layer; for example, you can put all the mountains on the MINERALS/MOUNTAINS layer. You can hide and show these layers to create customized maps. If you are playing a war game with a referee and three players, you would set up three extra layers, Player 1, Player 2 and Player 3. The referee can have a map with all the players' information showing, and the players have maps with only their own layers showing. You can view or print with any layers shown or hidden.
View your map
To navigate your maps, you can use the powerful zoom tools, even in the middle of a drawing something else. You can find and zoom to examples of text, save commonly used views, and even set up more than one window on your drawing. Because CC3's vector drawing objects draw very fast and do not lose any detail when you zoom close. Even bitmap objects redraw faster than in most common paint programs; and CC3 automatically selects between different resolutions of one bitmap to speed up redraws while providing the best resolution for the current view. CC3's objects also have a dimensions in real world units - this makes it easy to measure distances and print at any scale.
Print your map
When you print, you can choose the entire drawing, the current window, or a pre-saved view. You can print on one piece of paper, or across many, with no loss of detail. You can print at any scale, or fit your print to the paper. For example, you could print a starship deck plan so that one inch on the paper was two metres on the drawing, or your world at 1:10000000.
Export your map
CC3 allows you to export your map, or sections of your map to high resolution images for use in documents or the Internet. Choose from JPEG, PNG or bitmap file formats. You can also export your map in vector format for use in other CAD programs.
Link your map
CC3 lets you link areas of your maps to other CC3 designs. For example, you could link a city symbol to a map of that city, then link the city map back to its parent. In addition, you can link areas to documents or software: click on a village to see a Word? document with information about that village.
Drawing help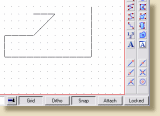 To make the creation of walls and other constructions simple, CC3 lets you snap your cursor to a pre-defined grid. You can turn this on or off at any time, even in the middle of drawing and define your own grids. The grid can be rectangular or hexagonal.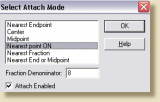 CC3 also lets you "lock" objects to other objects using the Attach button. Rivers lock precisely to coasts, rooms fit together, all with the minimum of fuss.
If you like the look of a particular object, whether text, symbol or anything else, KEEP lets you add more objects with similar properties. With DRAW LIKE, you can select anything in the drawing and immediately begin drawing similar entities, so just select an existing symbol and add more the same.
CC3 System Requirements
Find out what hardware you need to make CC3 fly
Overview
If you are just using vector art, CC3 doesn't make any more use of system resources than CC2 Pro - in fact it is the same speed. Effects, and the new bitmap artwork does require more heft, and CC3 will make full use of any memory you will give it. If you have an older machine, the most effective use of resources is more RAM. Of course, the brute force of a faster processor and a decent video card will make a big difference, too. As far as we can tell, there is no PC software that can handle large raster images more quickly. In summary, CC3 works very well on any modern PC, and pretty well on older ones.
Minimum Requirements
CC3 will work with lower specs than these, in fact it will work on any machine which runs Windows 98 or better. However, if you want to use the new artwork without too much slowdown, we recommend:
350 MB hard disk space
256MB Memory
Windows 98 or better
An internet connection for installation.
Maximum Requirements
For fast performance, and acceptable performance with effects on all the time, try these:
350 MB hard disk space
1GB memory - 2GB is ideal. Configure CC3 to use this.
Windows 2000 or better
A fast graphics card with decent on-board memory. NVidia seems to work a little better than ATI
A PCI Express motherboard and graphics card makes a real observable difference.
An internet connection for installation
Serial Activation
If you have an internet connection on your PC, the CC3 installation checks your serial number is valid. It does not transmit any personal information. If you do not have an internet connection on the PC on which you wish to install CC3, you can fill out a web form. This will give you a code to unlock the software on a non-internet connected machine.